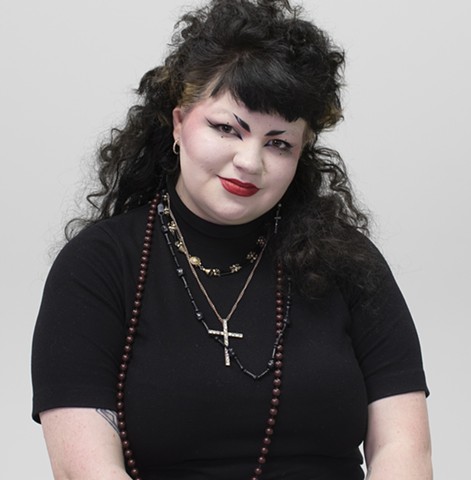 I am a fine artist and author based in Minnesota. My work is portrait-based as I work to explore the nuances of color and light within the skin, influenced by classical and Romantic artists such as Caravaggio and Rembrandt. In addition to portraits, a large majority of my work is focused on my experiences in the medical system, both as a chronically ill person and someone dealing with medical trauma.
I aim to open a discussion about the discrimination women are met with in the medical industry and the lasting harm it does to our bodies. I also work to re-contextualize this part of my life in a way that frames my body as a symbol of pride and determination, rather than something to be ashamed of. This is often done by adopting religious imagery, as well as classical art techniques, to imply divinity within my own body.
My written work draws upon the same ideas of medical trauma in order to process my experience. Like my visual work, my writing serves as a personal testimonial with the end goal of connecting to my audience. By making my art highly personal, I aim to elicit an emotional response and force the audience to confront the issue of medical trauma and the exhaustion of being stuck in the medical system.

Resume:
Katie Sluss
651-472-6807
katieasluss@gmail.com
Education
BFA in Drawing and Painting, Minneapolis College of Art and Design, Minneapolis, MN
May 2022
Visual Arts Scholarship, Minneapolis College of Art and Design, Minneapolis, MN, 2017
Dean's List Honoree, Minneapolis College of Art and Design, Minneapolis, MN, 2019-2022



Publications
Saints with Slingshots: Daily Devotions for the Slightly Tarnished But Perpetually Forgiven
Christian, 2015
Group Exhibitions
Tiny Art Show
Superior Public Library
Superior, WI, 2022
Wild With Foam and Glitter, Burren College of Art, Ballyvaughan, Co. Clare, Ireland, 2021
Foundations 3D Exhibition, Vine Gallery, Minneapolis, MN, 2018
Annual Area High School Art Exhibition, The Phipps Center for the Arts, WI, 2017
Da Vinci Festival, Stillwater Area High School, Stillwater, MN, 2013, 2015, 2016